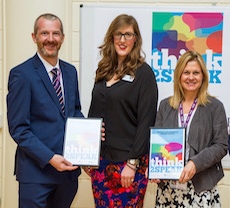 Lincoln based social enterprise, Think2Speak hosted their inaugural conference Thurs 13th October 2016 in partnership with Bishop Grosseteste University, Streets Chartered Accountants and Wilkin Chapman LLP. Schools, colleges, universities, charities, support organisations, councils and professionals came together to discuss the impact of investing in emotional wellbeing of young people.
Lord John Bird, Founder of The Big Issue, started the day with the opening keynote sharing his personal story and his mission today in The House of Lords to dismantle poverty with education. John said 'We need to make that investment!'
Simon Blake, CEO of The National Union of Students said 'Young people described emotional wellbeing to us, in a study, as a thinking heart and a feeling brain.... I feel the key message in education should be it's ok to be who you are.'
Delegates also then heard from academics from Bishop Grosseteste University, took part in a series of CPD workshops delivered by the Think2Speak team and accessed networking opportunities.
Headteachers, school staff, support staff, charities and local support agencies all attended alongside exhibitors including recruitment agencies, Red Recruitment 247 and Mana Education, YMCA, JUST Lincolnshire, Shine and Lincolnshire Community Health Services.
Lizzie Jordan, Founder of Think2Speak said 'We are absolutely delighted with the day. Our speakers have inspired and provoked fantastic conversations and debates, and our team have been able to showcase our work and our founding beliefs; maximising every young person's potential by addressing their emotional health and wellbeing needs.'
Delegate Sarah Wholley, Headteacher Lea Frances Olive Anderson Primary said 'It's great to see emotional wellbeing from other professionals' perspectives such as the doctors and actually tackling the issues head on and not being scared of it. Some of our children do have these suicidal thoughts, and it does worry you. As the keynote speaker Lord John Bird said, education is the key, but we do need support with that. Simon Blake mentioned starting school when children are age 7, when they're emotionally ready, learning through play, that's got to be the priority.'
'I'm really enjoying being here today. It's been very very inspirational. I am new to the role of coordinating SMSC in my school and there are lots of avenues here today that I can explore. There are some very serious issues that need addressing, in particular with the emotional health and wellbeing of youngsters. It has always been a belief of mine that without the emotional wellbeing needs met, there is no way they are going to achieve their academic potential in the future. So it's important that we all pull together and get these things right for these young people from the start.' said Craig Brewer, Cherry Willingham Community School
'I am absolutely blown away with this event and thrilled that we've got such an amazing organization out there that's ready to support our teachers and our practioners in their frontline practice because we all know how important self esteem and emotional wellbeing of children is, and the fact that there's now this very robust and well researched network there for us to access is just incredible. Very impressed!' Emma Olivier-Townrow, Lincoln College
Photos c/o Adam Winfield Through The Lens Photography - High res images available upon request. Email lizzie.jordan@think2speak.com
#T2SLive 2016 Speakers:
We are delighted to invite you to Think2Speak LIVE, our inaugural conference for teaching staff to discuss the impact of investing in the emotional wellbeing of young people on Thursday 13th October 2016.
Our speakers, inc Lord John Bird, Founder of The Big Issue and Simon Blake, Chief Executive Officer of the National Union of Students, will discuss the latest research, good practice and the impact that early intervention and support can have on the lives of young people, their families, your staff, and society as a whole.
In the afternoon, you will take a seat in our 'classrooms' to participate in a choice of workshops on topics including Domestic Abuse, Puberty, Friendships, HIV, Suicide and Self harm. The sessions are combinations of teacher training and demonstrations of the student workshops available to your school.
Places are FREE for teachers and are limited - secure your place today! Refreshments throughout the day and lunch are provided.
To download an invitation with full details of the event, please click here.